What aircraft appraisal method is best for me?
Feb 24, 2021
by Holton Hancock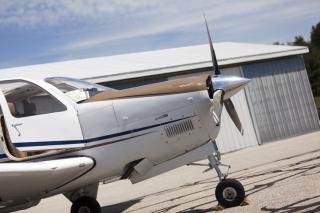 Whether you're an aircraft owner, a potential buyer, or just interested in the general aviation industry, there will come a time in your life where you are looking for a specific value of a particular aircraft. When that time comes, you are going to want to complete an aircraft appraisal.
An appraisal is an act or process of developing an opinion of value using uniform standards, one that is rooted in industry awareness, education, and available information upon surveillance.
To determine what an aircraft is worth, the interested party is usually left with three options: a published aircraft value guide, obtaining a "desktop appraisal," or having a professional aircraft appraisal completed.
Aircraft Value Guide
As we all live in the modern world where everything is easily accessible by a quick search, it is not hard to find information for aircraft online. This option is usually the fastest and least pricey of all possibilities to value your plane. Some of the tools available to you are sites like Aircraft Bluebook, VREF, and if you're an AOPA member AOPA Vref.
These sites all offer a do-it-yourself type style of appraisal services by allowing you to input critical information about your aircraft. By analyzing the data, you put in against their comprehensive databases and historical aircraft data; you can obtain an approximate value of the aircraft.
At the end of the process, you will have an approximate value of the aircraft, but these value guides are only as good as the supplied information. So if you aren't as familiar with aircraft as you'd like to be or if you feel there may be something you are missing, the next option may be for you.
Desktop Appraisal
A Desktop Appraisal is usually a service performed by a certified aircraft appraiser. An online search can provide you with a list of certified appraisers though some may not offer this service.
The process involves you sending over information about your aircraft, including logbooks, history, pictures, equipment lists, etc. The appraiser then reviews all of this information and evaluates the airplane compared to the current aircraft market and other aircraft sales.
A Desktop Appraisal is a bit more thorough than just using a value guide, as most appraisers are industry experts and have insight into many different types of aircraft. For example, a certified appraiser may have more in-depth knowledge regarding maintenance schedules or pending Airworthiness Directives that could save you thousands on a small airplane and possibly hundreds of thousands on a larger airplane.
Professional Aircraft Appraisal
The most comprehensive and most expensive option for valuing an aircraft is having a physical inspection of the aircraft performed by a certified appraiser. These appraisers usually belong to a professional organization such as the Professional Aircraft Appraisal Organization and conduct appraisals following professional appraisal practice standards (USPAP). Those that are good at this have sometimes been in business for 15 years or even 30 years, so they are most certainly an aviation expert.
The process involves the appraiser coming to the aircraft's location and physically inspecting the airframe, components, records, and other vital aspects. This process takes some time, but in the end, you are provided with a full written report on the aircraft detailing every pro and con.
You can be assured that the report will be the most accurate representation of that specific aircraft's value when the report is written. The report can easily be used as a negotiating tool or evidence to obtain financing on the airplane.
---
Whatever method you choose to employ to value your aircraft, it is always a step that should be performed in any airplane transaction. Trust us; you will avoid many headaches by knowing precisely what an airplane is worth at any stage of involvement.
If you need assistance in determining an aircraft value or have general questions about what airplanes are worth, feel free to reach out to us at any time and visit our Aircraft Appraisals page to learn more.