1973 Piper Challenger 180 - N5622K
Serial Number: 28-7305556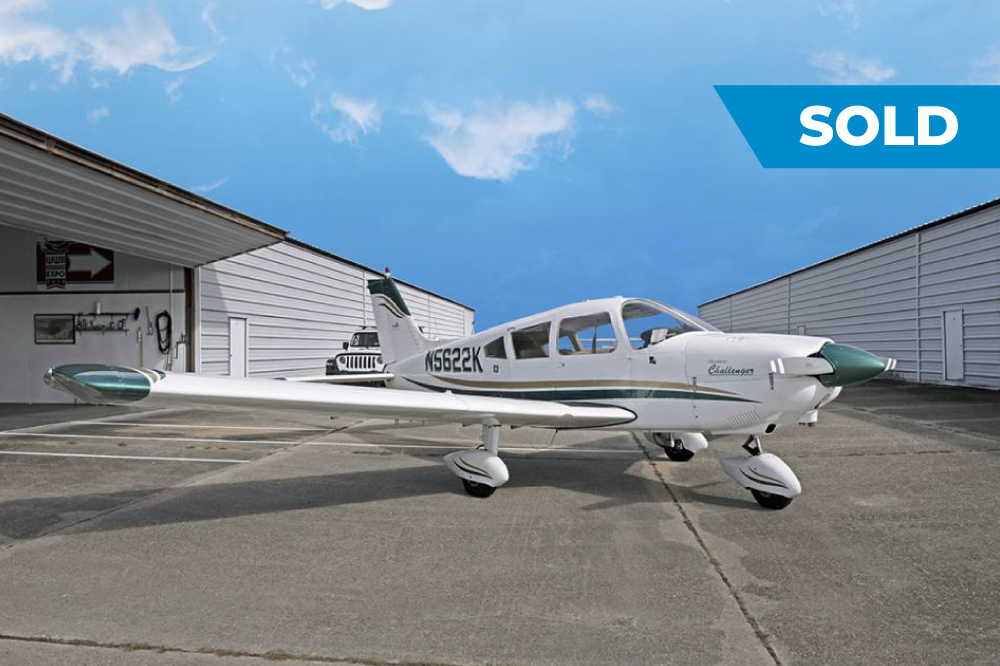 Hancock Aviation presents this Piper Challenger 180 that certainly shows pride in ownership! This Challenger is low time with 2,573 hours since new and ONLY 149 Hours on a Lycoming Factory Rebuilt engine! It shows well with a recent paint and clean interior and is equipped with AIR-CONDITIONING to keep you comfortable on those hotter days. Contact us today to learn more about this airplane!
Specifications
General Specs

Airframe

Engine

Prop

Additional Equipment

Avionics

Exterior

Interior

Inspection Status
General Specs
Year: 1973
Manufacturer: Piper
Model: PA-28-180
Serial Number: 28-7305556
Flight Rules: IFR
Based At: KNEW
Airframe
Total Time: 2,573.52 Hours
Range: 500 Nautical Miles
Max Takeoff Weight: 2,450 Pounds
Fuel Capacity: 50 Gallons
Engine
Engine Make & Model: Lycoming O-360-A4A
Engine Serial Number: RL-492-36E
Engine Time: 148.28 SFRM
Rebuild Date: 8-12-2014
Rebuilt By: Lycoming
Prop
Prop Make & Model: Sensenich 76EM8S5-0-60
Prop Serial Number: 103648K
Number of Blades: 2
Prop Time: 134.31 Hours Since New
New Date: 3-28-2015
Install Date: 4-2-2015

Additional Equipment
PiperAire A/C System
Electric Trim
Davtron M800 Chronometer
Avionics
King KMA-24 Audio Panel
King KX-155 NAV/COM
ICOM A200 COM
King KN-64 DME
Narco NAV-12 NAV
Garmin GTX-335 Transponder ADS-B OUT
Garmin GPSMAP 696
JPI EDM-700 Engine Analyzer
Shadin Digiflo Fuel Flow Indicator
Sigtronics SPA-400 Intercom
Piper Autoflite II Autopilot
Exterior
Details: Overall Matterhorn White w/ Green & Gold Accents
Rated: 9/10
Completed: 2017

Interior
Number of Seats: 4
Details: Overall Tan w/ Brown Accents
Rated: 6.5/10
Inspection Status
Annual Inspection Due: 2-1-2024
Pitot-Static Due: 11-1-2024
Transponder Due: 11-1-2024
ELT Battery Due: 7-2024
---
All Specifications Subject To Verification Upon Inspection
The airplane is still being actively flown, so times are subject to change.
Photo Gallery